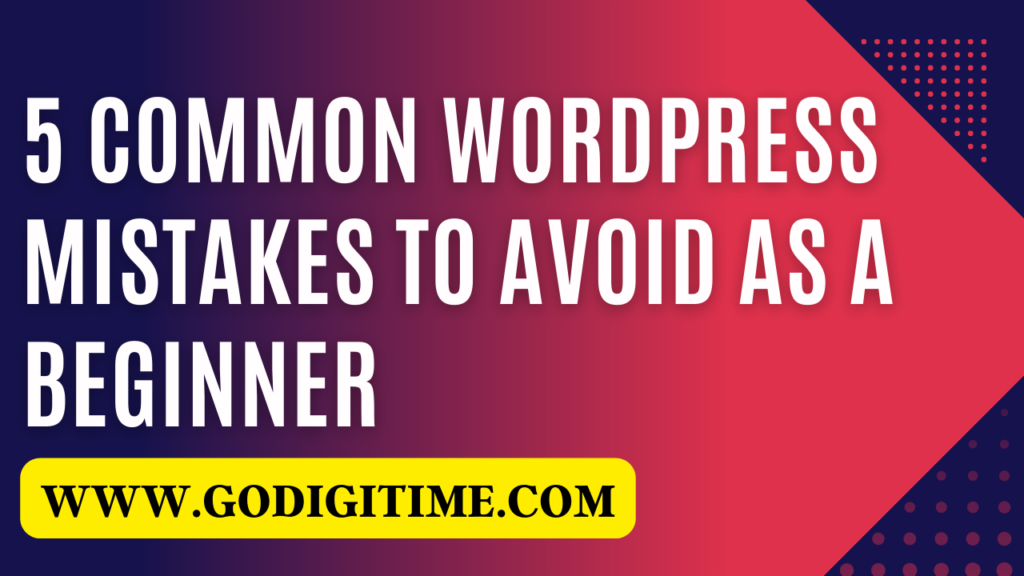 Table of Contents
5 Common WordPress Mistakes to Avoid as a Beginner
As a beginner in WordPress, it's important to avoid certain common mistakes to ensure the successful operation of your website. In this article, I write five common mistakes for beginners and give you a solution
Mistake #1: Not Choosing the Right Hosting
Hosting is the foundation of any website, so choosing the right hosting plan is crucial for your WordPress website's overall performance. Consider the following factors when selecting a hosting plan:
Server location: Choose a hosting provider that has a server location close to your targeted audience to reduce lag time and increase website speed.
Pricing: Don't let the price be your sole consideration. Consider the features the hosting plan offers and its scalability.
Uptime guarantees: Look for hosting providers that offer 99.9% uptime guarantees.
Security: Choose hosts that provide security measures and server backups.
Popular WordPress hosting providers include Bluehost, SiteGround, and WP Engine, but be sure to research the pros and cons of each before making your decision.
Mistake #2: Ignoring Security Measures
WordPress websites are prone to security threats, so it's crucial to take preventive measures. Here are some essential security measures you need to take:
Create strong passwords: Use complex passwords with a combination of letters, numbers, and symbols.
Install security plugins: There are many security plugins available for WordPress, such as WordFence and Sucuri, which can help protect your website from threats.
Keep WordPress updated: Always update WordPress to the latest version as it contains security patches and bug fixes.
Backup your website: Back up your website regularly to protect your data.
Mistake #3: Not Updating WordPress and Plugins
Outdated software can slow down your website and open it up to security vulnerabilities. Here's why it's important to keep WordPress and plugins updated:
Security: Updating WordPress and plugins helps prevent security breaches that can exploit outdated software.
Bugs: Software updates often contain bug fixes.
Compatibility: Updated software is more compatible with the latest technology and features.
Whenever new updates are available, take the time to effectively update your website. Back up your site first, then update WordPress and plugins one at a time to avoid conflicts.
Mistake #4: Overlooking Website Design
Website design plays a significant role in user experience and engagement. Here are some common design mistakes to avoid:
Clutter: Crowded pages can overwhelm users and detract from their experience.
Unreadable fonts: Small or low-contrast fonts can make it difficult for users to read your content.
Poor navigation: Site navigation should be easy for users to understand and navigate.
You don't have to hire a professional designer to improve your website's design. Simple improvements like decluttering your pages, choosing readable fonts, and describing your navigation more effectively can go a long way in improving user experience.
Mistake #5: Not Optimizing for Search Engines
Search engine optimization (SEO) helps your website rank higher in search engine results pages and drive traffic to your site. Here are some simple tips for optimizing your WordPress website:
Use keywords: Use relevant keywords in your content, meta descriptions, and image alt tags.
Use a proper permalink structure: Use a structure that includes your post's name or category.
Speed up your website: The faster your website loads, the higher it will rank in search engines.
Use plugins: Plugins like Yoast SEO can help optimize your website for search engines.
Conclusion
In conclusion, these five common WordPress mistakes can hinder your website's success. By choosing the right hosting plan, taking preventative security measures, keeping software updated, improving website design, and optimizing for search engines, you can avoid these mistakes and improve your site's overall performance.
FAQs
How can I fix a slow WordPress website?
such many methods to improve your site speed like using a caching plugin, optimizing your images, and selecting a right hosting plan
Is it necessary to purchase a premium WordPress theme?
No, it is not necessary to purchase a premium WordPress theme. However, premium themes often come with advanced features and better support.
How often should I update WordPress and plugins?
You should update WordPress and plugins whenever new updates are available.
Are free security plugins reliable?
Yes, there are many reliable free security plugins available for WordPress, such as WordFence and Sucuri.
Should I hire an SEO professional for my WordPress website?
It's not necessary, but hiring an SEO professional can help optimize your website for search engines and drive more traffic to your site.